Cliff Lodge, Snowbird Resort
CBEP 2017 will be held at the world-renowned Snowbird Ski and Summer Resort in the Wasatch Mountains of central Utah. Snowbird and the Cliff Lodge offer a unique combination of top-notch conference facilities and a dramatic alpine setting only ~45 minutes from a major urban center.

Located at 2,500 meters elevation in the upper reaches of Little Cottonwood Canyon, the resort is flanked by stunning cliffs of pre-Cambrian to Mississippian quartzite, shale, and limestone and expansive alpine conifer forests and meadows. Fall-season outdoor activities are numerous, including hikes ranging from easy to highly challenging, rock climbing, and mountain biking. Snowbird operates an outdoor summer recreation center that includes an alpine slide, climbing wall, and zip line. Tram rides from the resort to the southern ridgeline of the Canyon are available one-way or round-trip.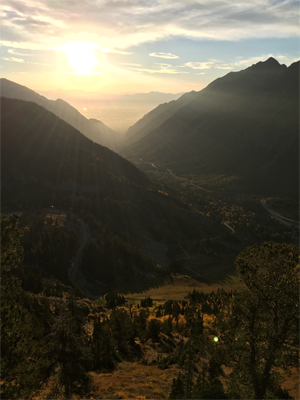 Dining at the Resort ranges from casual to sophisticated, providing on-site options for most occasions. Additional food and drink options can be found ~1 km up the Canyon in the town of Alta or a ~20 minute drive out of the Canyon into the Salt Lake Valley. Our meeting will coincide with Snowbird's annual Octoberfest celebration, which on the weekends will offer a range of open-air food, drink, and entertainment options around the Resort's property. The Cliff Lodge operates a full-service spa year-round to help you recover and relax, and receives our personal recommendation!
Salt Lake City is the capital of the state of Utah and the center of an urban metropolis that is home to more than one million people. Surrounded by the Wasatch and Oquirrh Mountain ranges and the Great Salt Lake, the city is a gateway to countless outdoor recreation opportunities. For those with a flexible schedule we'd recommend you consider extending your trip for several days in order to visit some of the many National Parks and Monuments in the state. Also recognized as the home of the Church of Jesus Christ of Latter Day Saints, the City features a range of Church-related and secular cultural features, ecclectic musical acts, an excellent and diverse selection of restaurants, and abundant shopping. The state's flagship institution of higher education, the University of Utah, is situated at the eastern edge of the City bordering the foothills of the Wasatch Mountains.