Field Trips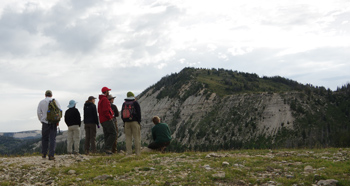 Two post-meeting field trips are being organized. Each will highlight the extensive and well-exposed late Cretaceous to Early Paleogene strata of the intermontaine western USA, with a focus on the interaction between tectonic and climatic conditions and dynamics of regional sedimentary and biotic systems.
Field trips can be selected as an option during meeting registration. Space on both trips is limited, and in order to secure a spot you must register and select this option by the early registration deadline (June 30, 2017).
Trip 1: Fossil lake deposits of the Green River Formation: Not all fish are preserved equally
(1 day, September 8; leader: Pete Lippert and Arvid Aase)
Vehicles will depart from Snowbird on the morning of Friday, September 8th and travel to Fossil Butte National Monument near Kemmerer, Wyoming via the Wasatch Front and the southern portion of the Wyoming Salient of the Cretaceous-Early Paleogene Sevier orogeny. The regional geology and tectonics will be discussed during short stops enroute to Kemmerer. During this one-day trip, participants will use volcanic ash marker beds in the Eocene Green River Formation of Fossil Basin to explore changing lake facies from beach, to nearshore, to deepwater sediments and the associated change in preservation of fossils, most commonly fish. Of particular interest are horizons preserving fish with skin and eyes but no bones. Sites will include natural exposures, fresh exposures in fossil quarry walls, and exhibits at Fossil Butte National Monument.
Participants will return to Snowbird the same day, and arrangements can be made to drop off those planning red-eye flights from Salt Lake International late Friday night. Those planning Saturday departures are encouraged to book accommodations at Snowbird for Friday night so they will not need to check out and bring their luggage on the field excursion. (Note that the meeting-arranged cost of lodging at Snowbird is equivalent to or less than most hotels in downtown Salt Lake City.)
Trip 2: Late Cretaceous to Eocene tectonic, climatic, and biotic change in central Utah
(2 days, September 8-9; capacity limited; leaders: Gabe Bowen and Lauren Birgenheier)
Vehicles will depart Snowbird on the morning of Friday, September 8th and travel to the southern Uinta basin via the Price River Canyon. Stops along the way will introduce the long sedimentary sequence that documents the onset of the Larimide orogeny in the central Rocky Mountains and resulting transition from shallow marine to fully continental depositional environments over ~30 million years. The remainder of day 1 will be spent exploring the Paleocene to Eocene fluvial and alluvial sequences of the southern Uinta Basin, which preserve an expansive record of terrigenous deposition that was likely orbitally paced and provides intriguing suggestions of distinctive sedimentary system response to Paleogene hyperthermal events. Participants will spend Friday night in the town of Price, the county seat of Utah's Carbon County notable for its strong connections to both the extractive and recreational opportunities afforded by Utah's wild lands.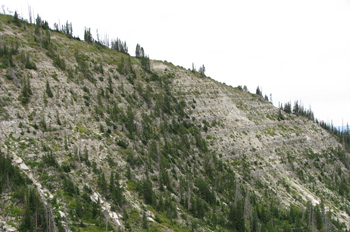 On day 2 participants will get another outstanding view of the extended late Cretaceous sections while the vehicles climb to the remote and beautiful high forests of the Wasatch Plateau. A short hike through fall-colored Aspen groves will allow everyone to stretch their legs and get a close-up view of the mixed carbonate and siliciclastic deposits of paleo-lake Flagstaff, which occupied a vast, shallow basin spanning much of central Utah from early Paleocene to Early Eocene times. Those who bring their rock hammers can collect samples of these lacustrine and palustrine carbonates and their freshwater fauna before hiking back to the vehicles. During the drive across the remainder of the ~40-km wide Plateau stops will highlight the rhythmic deposition and major transitions in chemistry that characterized the 10+ million years of the Lake's history. After descending from the Plateau, a final stop will introduce the Axhandle piggyback basin, a classic out-of-sequence thrust sheet basin that accumulated fluvial sediments of the North Horn Formation recording the Paleocene-Eocene Thermal Maximum.
Participants will return to Salt Lake City late Saturday evening. Those planning red-eye flights from Salt Lake International on Saturday will be dropped off at the airport; others should arrange hotel accommodations near the airport or in downtown Salt Lake, from which the airport is easily accessible by public transit.
Preparing for the field
Both trips are intended to be fun and accessible to a wide range of participants. Hiking over uneven terrain and up/down steep grades will be required to reach some outcrops and field sites. Both trips will involve travel in remote areas and at high elevation (2,000 - 3,000 meters). If you have concerns about your readiness to participate in either trip we encourage you to direct questions to the meeting organizers before registering.
The trips will occur during the transitional season and there is a good likelihood of warm but comfortable early fall weather. That said, conditions can be quite hot (>25 C) at lower elevations and cold (<5 C) at higher altitudes, and participants should come prepared with layers that will allow them to be comfortable in a range of conditions. Light hiking shoes or boots, a sun hat, and water bottles are also essential in the semiarid environment of central Utah.